13 Apr

Easter is Looking Pretty in Peach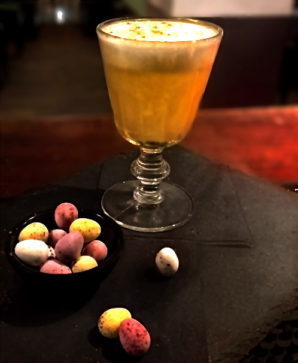 For the Easter weekend we're feeling egg-cited (sorry – will try to keep the egg puns to a minimum, honest)!
A few tickets are still available for the fabulous ukulele wielding Marilyn Monroe – aka Laura Nixon, on Thursday, either a £10 ticket for this fantastic show, or treat yourself to the three course cabaret dining menu, with a glass of fizz on arrival for £35 each, tickets here. DJ Jazzlord will play Cuban beats from 10pm (£5 after 10), and remember it's Good Friday the next day – so party on people!
BUY TICKETS FOR NEON MOON HERE >>
You can party with us all weekend, with great cocktails and DJs on Friday, Saturday is Rum Night, usual cocktails plus some special yum rum ones and funky, summer, holiday tunes, and Sunday is Sunday Night Live, inspirational music and poetry from Cambridge's most talented.
If that is not enough as an Easter special we not only have our tasty and terrific, three for £12 on tapas, but our super-skilled bartenders have whipped up a delicious Easter cocktail, egg-specially for you (oops). Pretty in Peach is frothy, citrusy, and comes with mini eggs! What's not to love? Here's the recipe to tempt you some more!
Pretty in Peach
45ml St. Germain
15ml Absolut Citron
20ml Lemon Juice
3 dashes of Fee Brothers Peach Bitters
5-10ml of sugar syrup (if you like things a bit sweeter)
20ml of egg white.
Shake over ice
Strain in to a sours glass or small wine glass (no ice)
Serve with a little bowl of mini eggs on the side
BAM!
Happy Easter and see you over the weekend. Cheers!